In 2001 the ozone hole in the Antarctic covered most of the sub continent. This year in 2002 the hole has separated into 2 holes and widened its effects.
This is due to the ozone reaching what is known as a critical mass level which makes it separate due to inner collapse. The problem with this situation is that it will now accelerate and become much larger much quicker and again when it reaches another critical mass level it will split again but into 4 not 3 as the period doubling effect will occur. The time scale for this will depend on amount of pollution that is on its way up and a number of other factors from global warming to oceanic temperature increases to melting of the southern polar ice fields.
This is not a good sign and governments around the globe need to look at the necessity for immediate and complete reduction of the use of fossil fuels and other atmospheric pollutants.
The USA also needs to stop their pollution agenda and move to bring into play any number of events to stop their domination of the worlds worst polluter.
Waiting until something happens is like closing the barn door after the horse has bolted MR. Bush!!!
The Antarctic ozone hole split into two holes in September 2002, the first time since satellite measurements began more than two decades ago. The dark blue shading indicates the hole, an area with at least 20% less ozone than normal.
This year's ozone hole over the Antarctic is much smaller than it was in 2000, according to NASA researchers. They say it is due to peculiar stratospheric weather patterns and does not indicate that the ozone layer is recovering. "While chlorine and bromine chemicals plus others cause the ozone hole, temperature is also a key factor in ozone loss,"
Between 1996 and 2001, the ozone hole reached more than 9 million square miles (24 million square km). The 2000 hole was the largest ever recorded at about 11 million square miles (28 million square km), roughly three times the size of the United States.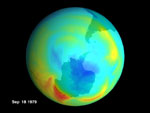 Ozone hole in 1979.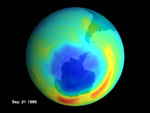 Ozone hole in 1988.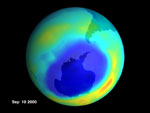 Ozone hole in 2000.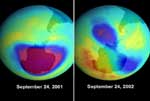 This is the ozone hole splitting right pic in 2002. Left is 2001.
Here is a link to the Nasa page for more details. http://www.gsfc.nasa.gov/topstory/20020926ozonehole.html
Photos courtesy of NASA. .