The process for the classroom is as follows:
All must do this including the teacher. The entire exercise should not take more than 5 minutes and be done daily 5 days a week during classes..
The following exercise is an extract from the book Ancient Therapy we have written which is due for release in 2006. It is a very powerful healing tool when taught how to use it as well as a great learning and meditation tool. This is copyright material and cannot be published in any shape or form without prior permission from the authors. Click here for more information on the Ancient therapy book.
The Hand Exercise
To experience the hand exercise yourself, just make sure that your legs are not crossed and both of your feet are flat on the floor and not touching each other - for a sitting position.
PLEASE NOTE: IF AT ANY STAGE DURING THIS EXERCISE YOU FIND YOU CANNOT MOVE YOUR HANDS AT ALL IN ANY DIRECTION SIMPLY TAKE A DEEP BREATHE IN AND LET THE AIR OUT SLOWLY. YOU SHOULD THEN BE ABLE TO MOVE YOUR HANDS.
For a lying down position - again make sure that your legs are not crossed and your feet are not touching each other. It is also recommended that you remove any metal jewelry or other items from your body such as watches, glasses, hairpins, necklaces, etc, to avoid against any discomfort that may occur through a static discharge from the metal.
The Hand Exercise is a combination of the following three stages.
Activation
Bring the palms of your hands together into the praying hands position.
Then gently press them together.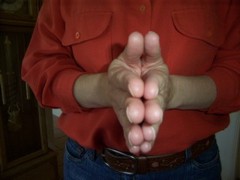 Diagram 2a: palms together
Working with the Energy
Very slowly start bringing your hands apart (keeping them parallel), with your eyes and your mind focused on the space between your hands, keep bringing them apart until there is approximately 3 to 4 inches between them, all the time being aware of what is going on between your hands while you're bringing them apart, then hold them steady in that position.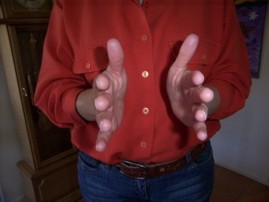 Insert Diagram 2b: palms apart parallel
Now we would like to take you through a couple of small hand movements, please keep these movements as slow and gentle as you can.
In the first movement you move your hands up and down in an alternating manner (e.g. Move your left hand up while keeping your right hand static, then move it back down so it is parallel with the right again, then move the right hand up while keeping the left hand static, then move it back down so it is parallel with the left hand again. And repeat several times), no more than 1/2 an inch, being aware of what is going on between your hands.
Insert Diagram 3a: left hand up while right static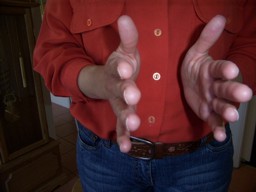 Insert Diagram 3b: both hands parallel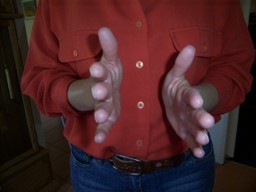 Insert Diagram 3c: right hand up while left hand static
The second movement is moving your hands in and out, starting with the 3 – 4 inch space between your hands, you then simultaneously bring your hands closer together by approximately ½ inch and then move them back out to their original position, and repeat the process several times. Make sure you keep the movement nice and small and slow, again being aware of what is taking place between your hands. Then hold your hands steady once again.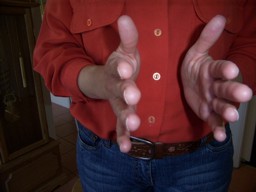 Insert diagram 4a: hands 3-4 inches apart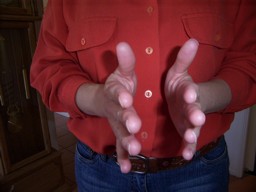 Insert diagram 4b: hands half an inch closer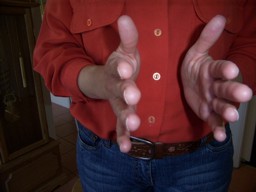 Insert diagram 4c: hands now back ½ inch out again.
This last exercise we would like to take you through must be done very slowly; it should take you at least 3 minutes to do this.
What I want you to do is very, very, slowly, so slowly that you can hardly see your hands moving, start bringing your hands back together until they are completely touching (palm to palm). Remember this should take you at least 3 minutes to complete. (You may need to slow them down).
If you find that it gets difficult to move your hands, just take a deep breathe in through your nose, and exhale slowly through your mouth, this will assist you. The reason for this is that there are two breathing methods, one breathing for the mind the other for the body. In this case as the energy is for the body and so it can adapt, you breathe out through the mouth.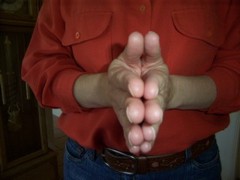 Insert diagram 5a: hands together palm to palm
Closing off
When you have your hands completely back together, palm to palm, brush your hands together a few times (as if you are brushing something off of your hands) in order to close the energy off and return it to normal.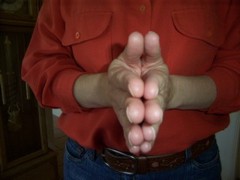 Insert diagram 6a: hands palm to palm touching.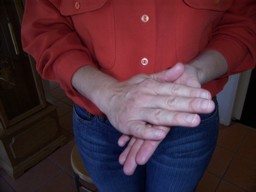 Insert diagram 6b: show crossing of palms.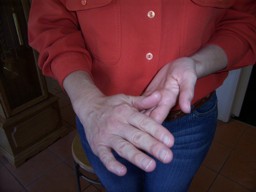 Insert diagram 6c & 6ca: show brushing of hands.
(The strength of the energy felt between the hands during the Hand Exercise is equal to the strength of ones concentration, the more it is practiced the stronger it gets.)
If you wish to obtain the entire ebook on this process you can obtain it from here!